1Easylife Stainless Steel Metal Measuring Spoons, Set of 6 for Measuring Dry and Liquid Ingredients

Price:

$15.99

Sale: $7.99

BUY AT AMAZON US

√ MAKE MOUTHWATERING DESSERTS AND DISHES: ★Making delicious lemon cupcakes, apple pies, pizza and cookies requires accurate and various measurements, so 1Easylife measuring spoons offer the variety you need 6 pieces: 1/8-tsp (0.63ml), 1/4-tsp (1.25ml), 1/2-tsp (2.5ml), 1-tsp (5ml), 1/2-Tbsp (7.5ml) and 1-Tbsp (15ml). Plus, these spoons are deep enough to accurately measure liquid and dry ingredients without spilling out.

√ SAVE YOUR MONEY WITHOUT REPLACING: ★People usually regularly replace plastic measuring spoons because the spoons broke or the printed sizes wear off. Now, you never need, our measuring spoons are made of One Solid Piece of Stainless Steel, they are so durable that never rust, bend or break, and the Engraved U.S and metric measurement won't wash off. They will be the last one you need to buy!

√ 100% RISK FREE GUARANTEE: ★We offer a 2-year-warranty plus lifetime warranty to make you happy and satisfied with our product, if you're not satisfied with your purchase, Simply let us know and you'll be offered a Full Refund or Replacement, No Questions Asked.

√ EASY TO CLEAN AND STORAGE: ★Mirror polished finish makes them easy to clean up by hand, of course, DISHWASHER SAFE. However, when you don' t use these measuring spoons, they nest into each other for ease of storage with a unique metal ring to keep them all together to take up your less space and not lose any.

√ AN EXCELLENT GIFT FOR YOUR FRIENDS: ★The elegant and stylish measuring spoons are the perfect Christmas gift for your families and friends who like cooking or baking.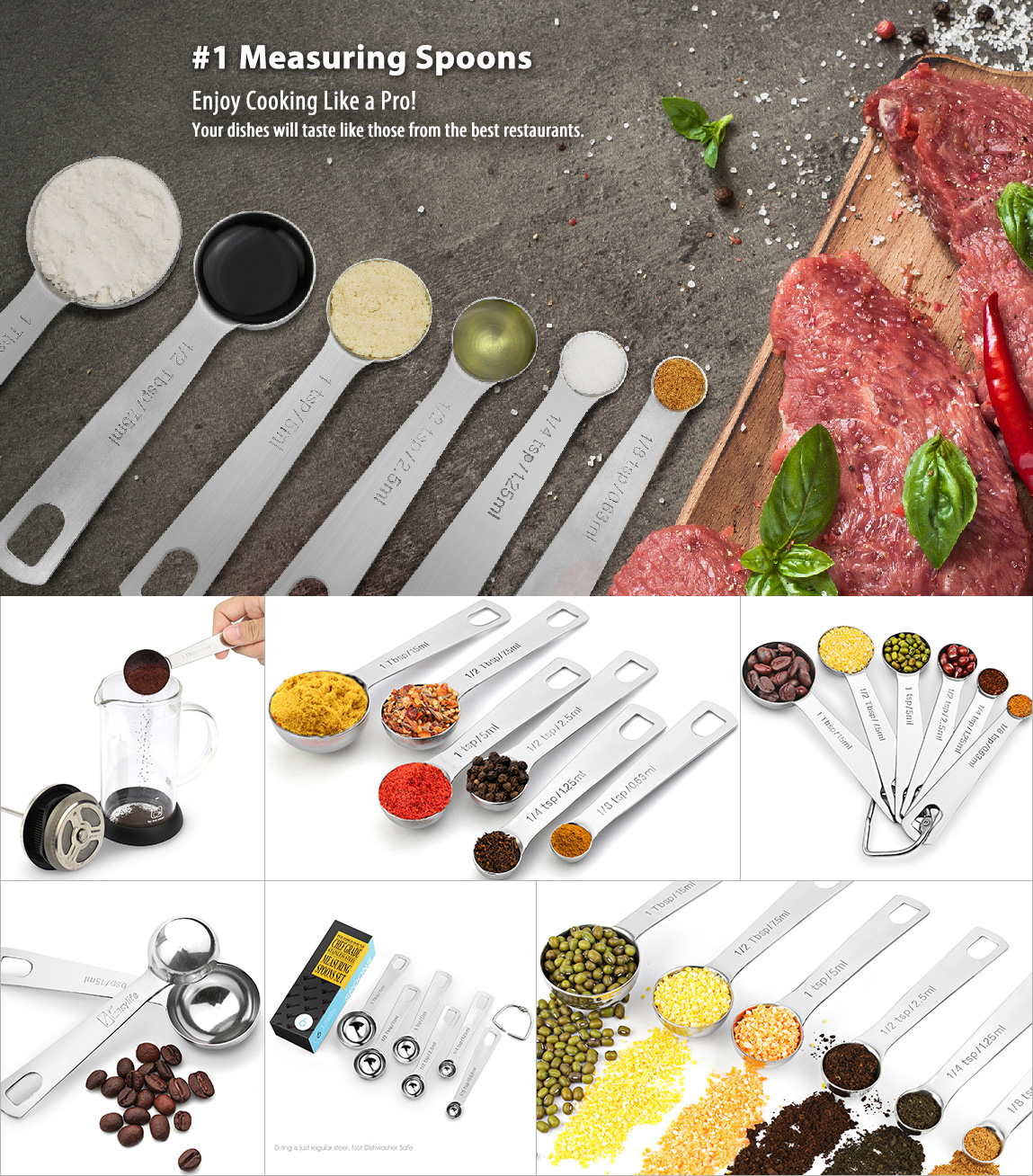 THE LAST MEASURING SPOONS SET YOU NEED TO BUY!!!

Tired of guessing the printed measurement markings of your poor plastic measuring spoons?
Want a new set to replace your flimsy plastic measuring spoons set?

THEN YOU'VE COME TO THE RIGHT PLACE!
Buying 1Easylife Stainless Steel Measuring Spoons Set Will Save Your Money Without Replacing Them!


Now Introducing:
√ Measuring spoons set includes: 1/8-tsp, 1/4-tsp, 1/2-tsp, 1-tsp, 1/2-Tbsp and 1-Tbsp. You can get all that you need with six complete sizes.
√ These measuring spoons are made of one solid piece of stainless steel, which means that they NEVER RUST OR BREAK.
√ ENGRAVED MARKINGS won't wash off over time and easy to read.
√ Mirror polished finish with no sharp edges makes these spoons easy to clean up.

More Benefits:
★Dishwasher safe - effortless to clean up.
★Nested together - easy for storage.
★A hole in the handle - hang them up on the hooks.
★A metal D-ring - keep them together so won't lost any spoons.
★Deep elongated spoons for easy scooping.
★U.S and metric size - convenient to measure.
★Stylish package - an excellent gift for your friends.

Set Includes:
· 1/8-tsp. (0.63ML)
· 1/4-tsp. (1.25ML)
· 1/2-tsp. (2.5ML)
· 1-tsp. (5ML)
· 1/2-Tbsp. (7.5ML)
· 1-Tbsp. (15ML)

**100% RISK FREE GUARANTEE!-- We offer a 2-year-warranty plus lifetime warranty.

Order now! Click 'Add to Cart' to enjoy 1 easy life!!!
FAQ
1
wotes

Question:

Does the tablespoon measurer fit into a spice jar or just certain brands of spices?

Answer:

Fits better than round tabkespoons.

1
wotes

Question:

Are these measuring spoons made in the USA?

Answer:

Our measuring spoons are made in one of the best factories in China that specializes in manufacturing stainless steel kitchenware products.
Our spoons have many advantages and features if you scan the product details.
If you place order, the product will speak for itself.
Any issue you can feel free to contact us via Amazon.
Kindest regards,
1EasylifeDirect shop

1
wotes

Question:

Is the ring made of stainless steel? Is it rust resistant?

Answer:

Yes it is stainless.. I just received mine not too long ago so can't answer about the rust.. but I wouldn't think it would rust..

1
wotes

Question:

How long are these measuring spoons?

Answer:

There're 6 spoons, from left to right is total length, length of spoon head, width of spoon head.
1/8 tsp. (0.63 ml) ----- 6.5 inches, 2 inches, 1 inch
-1/4 tsp. (1.25ml) ----- 5.6 inches, 1.5 inches, 0.9 inch
-1/2 tsp. (2.5ml) ------ 5.5 inches, 1.2 inches, 0.8 inch
-3/4 tsp. (3.75ml) ----- 5.4 inches, 1.1 inches, 0.6 inch
-1 tsp. (5.0ml) -------- 5 inches, 1 inch, 0.5 inch
-1 Tbsp. (15ml) ----- 4.8 inches, 0.9 inch, 0.5 inch
Kindest regards,
1EasylifeDirect shop
Reviews
Heavy duty stainless steel measuring spoon set that fits inside spice jars
By

Tech-512

on September 10, 2016


Verified Purchase




I really never thought about how much easier it would be to use a set of measuring spoons that fit in a spice jar - until now. The rectangular shape of the 1Easylife measuring spoons make it so easy to properly measure the correct amount of spice without the mess often seen with a typical round measuring spoon (see pictures below). Made from 18/8 stainless steel, these are noticeably heaver than the circular stainless steel measuring spoons I currently own. To confirm this, I weighed each tablespoon and the tablespoon from 1Easylife was 25% heavier (1.2oz vs 0.9oz) than the circular stainless steel one. This set includes 6 measuring spoons - one of which is a 3/4 tablespoon which is hard to find in other sets. Each handle is embossed with the measuring amount making it easy to see and eliminating the possibility of the measuring amount washing away after multiple trips through the dishwasher. I really liked the easy to open and close D-ring to keep all of the spoons together. Most other sets I have seen use a circular "key ring" which is very difficult to separate individual spoons - nice touch. Highly recommended!

If this review was helpful, please vote!

1Easylife provided these measuring spoons at a discount for my review. All opinions, pictures, etc. are my own.

Quality measuring spoons that won't disappoint
By

Florida Palms

on September 19, 2016


Verified Purchase




I received this set of 1Easylife 6 stainless steel measuring spoons for free in exchange for my review. I had recently bought a set made by another company that left me disappointed as those spoons were just okay. No disappointment here; this set of spoons by 1Easylife is so much nicer.

The measurements (1/8, 1/4, 1/2, 3/4, 1 Teaspoon and 1 Tablespoon) are accurate and are engraved on the handles in easy to read print. The spoons are thick, heavy and strong; you won't be able to bend them like cheap tin ones. They are mirror finish 18/8 stainless steel, not plastic or tin. I like the rectangular shape; it makes it easier to get into smaller jars. The spoons feature an ergonomically designed handle which also keeps the spoon from tipping over on a flat surface. I like to keep my spoons together or I can never find the one I need without digging through my kitchen utensil drawer. So I really like that these spoons come with a sturdy removable D-ring that's easy to open and close to remove and replace whatever spoons I need to use, keeping them all together when I am done.

I feel the features and quality of these spoons, make it a very good value at the current sale price of 11.99USD

I always give an unbiased review with my honest opinion, good or bad, and I hope my review was helpful to you.

5.0 out of 5 starsA quality stainless steel metal set of measuring spons
By

Stephen C. Holtzman

on September 11, 2016


Verified Purchase




One can never be short of Measuring spoons so when the 1Easylife 18/8 Stainless Steel Metal Measuring Spoons arrived I happened to be starting a recipe! I hate when you only have one spoon in one size per set so this second set was great to have. I noticed the quality immediately when I opened the package. It is a pleasure to have a quality set especially having a plastic set before. They are very nice to hold and designed properly to fit into many sized opening. So much better feel than my cheap plastic set of spoons. I noticed this as my plastic set is round for the measurements and does not fit some smaller containers. Great Set Great Price! Great Quality!

Disclaimer: I did receive the 1Easylife 18/8 Stainless Steel Metal Measuring Spoons in exchange for a review. Each opinion is my own and is not influenced in any way by any party but myself. If you follow my reviews they are as honest as I can be and if I do not like a product or a feature I will let it be known. It is important to both yourself as a consumer and myself to make these reviews as accurate as possible. I always read reviews myself, not one alone on a product, but many, to get an overview before I make my decision and I recommend that you do the same. Always keep in mind that you can't please everyone or that you may have a bad product, but you should get a clear view of the item in question by reading as many reviews as possible.

This set of measuring spoons is great. I have several other sets of measuring sp...
By

Lea And Jeffrey Wilkins

on September 11, 2016


Verified Purchase




This set of measuring spoons is great. I have several other sets of measuring spoons but they are the round shape and hard to get into some spice containers. Also my other spoons are very lightweight and have bent over the years. I look forward to using these spoons for many years as they are of higher quality...These are uniquely designed measuring spoons that are made to fit inside of your average spice containers. We really appreciate this design for scooping the correct amount of spices when cooking. With the spoons we had before we were constantly having to pour the spices in to the spoon and worry about spilling and leveling off the top. This set also stores together nice and compact..The measurements are engraved into the handles so no worries about the stamps washing off after using them in the dishwasher. We were thrilled to find out that this set also included the spoon for 1/8 tsp which we could never find before. We have needed this small measurement a few times and have had to improvise with a pinch. We are very happy with the quality of this set and would most certainly recommend them to family and friends. We have had no issues washing them in the dishwasher and haven't noticed any unusual marks etc.
I received this product at a discount or free in exchange for my honest and unbiased review. I have no obligation to leave a positive review and do my best to give feedback that will be valuable to anyone considering purchasing this product. I was neither paid nor sponsored for my opinions and all thoughts reflected in this review are solely my own. I personally rely heavily on product reviews to determine which products I buy. Because I know the importance of honest reviews, I give my opinion based solely on my personal experiences with them. If you find my review useful, let me know by clicking that yes button right down there.